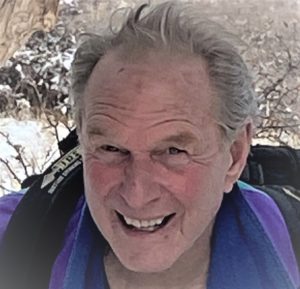 Frederic is an elder sage … and renaissance kind-of-guy. He "downloaded" his life/soul mission in his 30's. The essence hasn't changed in these 40 years since: "to explore, embody, and share paradoxical Wholeness." His 50 years of journeying with this mission –and catalyzing others to find theirs — has led him to:
founding and directing two educational  nonprofits;

local community activist for Dharma's Garden — a 5 acre, educational farm in the heart of Boulder

living abroad for total of five years;

Human Resources VP for an entrepreneurial start-up rocketing to $50,000,000 sales;

poet of over 200 poems;

two year "walk-about" in Kashmir, India and Maui;

total psycholgical crash and burn in mid-life: sleepless, homeless, penniless, suicidal;

scholar and published author of Between Two Worlds: The Riddle of Wholeness;

active coaching and mentoring practice for those wanting clarity and connection with their deeper soul.

delving into extraordinary teachings, healings and soul medicine coming from entheogens;

deliberately synthesizing his background in PhD clinical psychology, spirituality, meditation, mindfulness, energy medicine, somatic experience, neuroscience, wisdom traditions, evolutionary psychology, yoga, solo vision quests, professional dance and world travel adventures — into practical and loving teachings.