Shinei Sara Monial & Soten Danney Lynch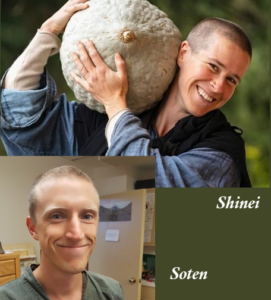 Shinei Sara Monial and Soten Danney Lynch are ordained Soto Zen Priests. They lived and practiced full-time at Great Vow Zen Monastery with Chozen and Hogen Bays for a decade (https://zendust.org/). Shinei is a yoga teacher and Soten is a long distance ultra-runner and musician. Together they have been leading annual backpacking meditation retreats in the wilderness of the Pacific Northwest since 2016.
Recently they embarked upon a pilgrimage through Mexico and Central America, covering 3,000 miles purely on foot. Back from this journey they each seek to merge their passions for Embodiment, Nature and Dharma and share this unique offering with others.