Being Outside
With Shinei Sara Monial & Soten Danney Lynch
October 30 - November 6, 2023
We all live on, and as, this wild, ancient earth, spinning continuously within the vast, magical sky. The deep mystery from which this all arises is profound and serene. Yet often in our lives we do not recognize this great beauty, the deep peace and profound freedom of our own Being. The mental and physical boundaries we construct help us feel safe and comfortable – but at what cost? The loss of contact with our own precious radiance, and that of our very universe.
In this retreat we will emphasize Being Outside. Who are we before our constructs? The pre-constructed world, 'Nature', can remind us.
This retreat will be held in silence using the Zen form of Sesshin; six to eight hours of meditation daily including both group and solo-sitting. Further, group and solo hiking, guided body practice, devotional song, dharma talks, Q & A, and one on one meetings with a teacher will all be included in the schedule. Sleeping outside will be available for those who wish.
This retreat is designed for people ages 18-35. The food provided will be 100% vegan.
Teacher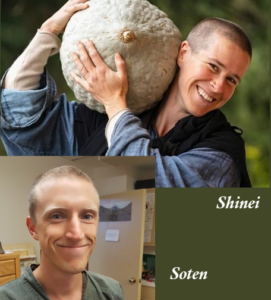 Shinei Sara Monial & Soten Danney Lynch
Shinei Sara Monial and Soten Danney Lynch are ordained Soto Zen Priests. They lived and practiced full-time at Great Vow Zen Monastery with Chozen and Hogen Bays for a decade (https://zendust.org/). Shinei is a yoga teacher and Soten is a long distance ultra-runner and musician. Together they have been leading annual backpacking meditation retreats in the wilderness of the Pacific Northwest since 2016. Recently they embarked upon a pilgrimage through Mexico and Central America, covering 3,000 miles purely on foot. Back from this journey they each seek to merge their passions for Embodiment, Nature and Dharma and share this unique offering with others.
Learn more about Shinei Sara Monial & Soten Danney Lynch