BIPOC Yoga Nidra Immersion
With Lakshmi Nair and Asia Dorsey
June 26 - 29, 2023
What is yoga nidra?
Yoga Nidra is the ancient Indian science of total relaxation that systematically unlocks the self revelatory potential that resides within our inner peace. Yoga nidra releases the source of tensions, unsupportive behaviors, acquired conditioning and self-limiting beliefs through deep physical, mental and emotional rest. It is through the deep receptivity of rest, that we can imprint new patterns that resonate and generates new thoughts and actions. And you don't have to "work for it" You rest towards it. And this rest, is the reparations that you deserve, right now.
How does it work?
My teacher, Dr. Kamini Desai explains, "Every night when we sleep, we must do one thing; let go of our thoughts. In Yoga Nidra we consciously enter the twilight zone between waking and sleeping, enabling us to rest more and more as the space of being beyond the mind, and less and less as the mind itself. This unlocks the mystical, integrative powers of the subconscious, as well as your higher centers of consciousness, to effortlessly erase your most tenacious, self-destructive habits and behavior patterns. It is said by yogis that 45 minutes of Yoga Nidra is as restorative as three hours of sleep."
What can I expect?
You can expect to rest. We take care of the rest. We provide three daily hand-crafted ayurvedic vegetarian meals to nourish your body. Amongst other curated activities, we provide multiple sessions of Asana and Yoga Nidra each day to generate strength, relaxation and power. The lovely Rocky Mountain Ecodharma Retreat Center provides beautiful mountain views, fresh clean air and an internet-free environment catered towards Black, Indigenous and Folks of color.
What is asked of me?
We ask that you are willing to come out of hiding. …that you invest in yourself and that you invest in the Satya Yoga Cooperative. …that you love the skin of the people around you and appreciate the body that you are in. We ask you to join us, in healing justice.
How can I participate?
Dates: Jun 26-28 Costs: $1050/$850 member rate (limited scholarships and payment plans available).  Each year Lakshmi and Asia provide an online yoga nidra teacher training. Immersion participants have the ability to further their studies through the Satya Yoga Cooperative.
Teachers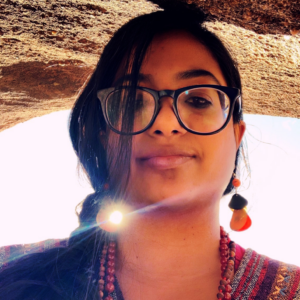 Lakshmi Nair
Lakshmi Nair: Lakshmi Nair is a yoga educator, engaged in reclaiming the pre-patriarchal, non-hierarchical indigenous resilience and resistance of her ancestral tradition of yoga and creating spaces for herself and others to authentically engage with the practices of yoga for self and collective healing and liberation. In 2014, Lakshmi created a yoga immersion and teacher training program exclusively for BIPOC which has since grown into Satya Yoga Cooperative, one of the first BIPOC owned and operated yoga cooperatives in the country.
Learn more about Lakshmi Nair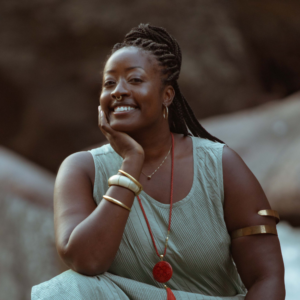 Asia Dorsey
Asia Dorsey is at home in her body. She deepened her practice as a Kingian Nonviolence facilitator at Navdanya International studying with the great Gandhian Satish Kumar and the earth warrior Vandana Shiva. Asia completed her first Yoga Teacher Training in Denver with Lakshmi Nair in 2016. They later collectively organized the Satya Yoga Cooperative, an organization that empowers people of color to use yoga as a tool for personal liberation and social transformation. Asia's tantric style of teaching cultivates the seeds of collective creativity and play, seeing the goal of any practice as coming home to the divinity that lives in our bodies. To this end, Asia has over 600 hours of embodied practice of Yoga Nidra and is skilled at fostering spontaneous regeneration in others. She has trained in the Bihar School style with Lakshmi, and received certification from the Amrit School of Yoga Nidra with Kamini Desai. Join in her creations @bonesbugsandbotany and http://bonesbugsandbotany.com/
Learn more about Asia Dorsey