Gratitude, Grief and Grace in the Face of Global Suffering: A Women's Retreat
With Jean Leonard and Sarah Heffron
September 19 - 23, 2023
Gratitude, Grief and Grace in the Face of Global Suffering: A Women's Retreat
Within the beauty of this mountain refuge and the teachings of the Dharma, we will co-create a safe and nourishing community of women in which to deepen our connection with ourselves, the Earth, and the more-than-human world. We will take an embodied pause to drink in the majesty of the natural world of which we are a part.  In both meditation and ritual space, we will open and lean in to the losses and suffering of this moment in order to discover boundless space and compassion to hold it all.  We will emphasize equality, acceptance, and belonging as we learn from and support one another.   Drawing from our innate wisdom and imagination, we will shape new stories of resilience, finding our unique contribution to the great paradigm shift toward a world in balance.
This primarily silent retreat offers you periods of sitting and walking meditation outside; nourishing ourselves in Nature; gentle mindful movement; sharing and ritual; writing and reflection; and Dharma talks and support from the teachers.
This retreat welcomes all who self-identify as women and is appropriate for both those relatively new to practice, as well as more seasoned practitioners who wish to deepen and strengthen their connection to the Dharma in nature.
Additional information about the retreat can be found here.
Lodging
You may camp in a beautiful campsite, or stay in the lodge. Lodge rooms are for single individuals or couples or friends consenting to room together.  If you reserve a space in a single room, you may request to change your rooming to a double, with another consenting participant. Your cost will be adjusted to reflect the cost of a double room.  You are welcome to request a specific roommate, if you know someone attending the retreat.  Contact Kathy at regi[email protected] if you will be rooming with another participant.
Lodging Options
$455       Camping
$505       Glamping
$505       Curtain Room
$505|$890  RV Camping
$505        Semi-Private Nook (single) see more details on registration page
$595        Single Room
$515         Shared Double  (you are welcome to request a specific roommate, if you know someone attending the retreat.)
$1030      Double Bed Room (for 1 or 2 participants)
Cost and Dana
The cost of the retreat is set as low as possible and only covers expenses: renting the center, food, cooks, insurance, and staff travel. The teachers and manager are not paid, and are supported with dana.
Scholarships
It is our intention that cost not be an impediment to practice.  If you cannot afford to attend without a fee reduction, you can ask for a scholarship on the registration web site, and then just pay the remaining amount.
Anyone with financial hardship is welcome to apply and will be assessed based on needs and fund availability. We ask that you request the lowest amount required to attend the retreat, so that we can offer support to as many people as possible. But do not let cost be an impediment to your attending; if you need a scholarship, please get one.
Payment, Deposits
A non-refundable deposit of $120 is due at the time of registration. Full payment is due 60 days before the retreat start date; your credit card will automatically be charged at that time.
Cancellation, and Refund Policies
If you cancel your retreat at any time, the $120 registration fee is not refunded.
Cancellations received 60-30 days prior will get a refund of half of the final payment.
Cancellations 30-7 days prior will get a refund of a quarter of the final payment.
For cancellations inside of 7 days there will be no refunds.
Teacher Donations (Dana)
None of this cost share goes to the teachers or to the manager, who are solely supported by the dana (generosity) of the participants. In the tradition of the Buddha, teachings are offered without a set fee, keeping costs as low as possible, so no one is excluded due to finances. In turn, we ask that your donation be as generous as possible within your means. Please bring a check or cash. We are grateful for your support.
Covid Information
Please read the complete RMERC covid policy here.   The Covid policy may change at anytime in accordance with the teacher's discretion.
PRE-RETREAT. To ensure everyone's safety, we ask that you wear an N95 mask during travel, especially while in planes and other public spaces, regardless of federal rules, and that you are really careful for 10 days before your retreat. If you have any COVID symptoms please do not come to RMERC until you are well.
To ensure everyone's safety and comfort, RMERC requires that everyone arriving at the retreat center provide a negative covid test result, preferably from a PCR test, taken less than 96 hours before the retreat.  If a PCR is not accessible, we require two rapid home tests, the first taken the day before the retreat, and the second taken the day of the retreat, with 24-36 hours between the two tests. Those using home tests should take time-stamped photos of both test results. This proof of negative test results must be presented before entering the lodge for your retreat.
AT THE RETREAT:  Weather permitting, we will hold the majority of the retreat outdoors.  And we will practice social distancing and masking indoors as appropriate, based on current COVID conditions and recommendations at the time of the retreat to maximize everyone's safety and well-being.
Time and Transportation
The retreat begins at 4:00pm on the first day, and ends about 1:00pm after lunch on the last day. If you are flying into Denver, the airport is about 90 minutes from the center, so you should plan on your flight arriving no later than 1:00pm to reach the retreat center on time. Return flights departing from the Denver airport should leave no earlier than 4:30pm, so you can get to the airport on time. Please do not plan on leaving the retreat early or arriving late. If camping you might want to allow some extra time to set up your tent before the retreat starts.
Please note that the center is at 8500 feet, similar to most Colorado ski towns. If you are concerned about acclimating from sea level, you might consider arriving a day or two in the Denver/Boulder area before the retreat.
Food and Meals
Three simple vegetarian meals a day will be provided from dinner the first day through lunch on departure day.  If you want a snack between meals, or supplemental protein such as energy bars, jerky or packaged fish, you can bring a small quantity of packaged unrefrigerated food. Tea and coffee along with milk and sweeteners are available before and during breakfast.  Please do not bring anything that needs refrigeration (medicine excepted).
Special Needs
Figuring menus and quantities, shopping, organizing, and cooking are complex and crucial tasks for a retreat. We provide simple, wholesome, natural, predominantly organic, vegetarian meals. We can accommodate common food allergies such as gluten, soy or dairy, but not preferences. Make sure to include on the registration form full details of any special allergy or health needs you have beyond basic vegetarian.  Food will be labeled so that those with allergies can take care of themselves.
Helper (Yogi) Jobs
Some of the work necessary to support the group will be handled by participants during the retreat. You will be asked to perform a yogi job throughout the retreat to support our practice community.  Most participants find serving others in this way quite enjoyable, and a great opportunity for practice in action.
Teachers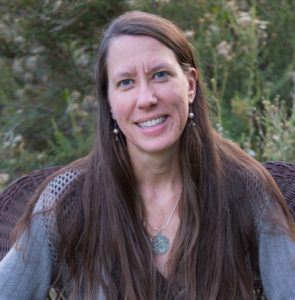 Jean Leonard
Jean Leonard, Ph.D. is a licensed psychologist and a certified Mindful Self-Compassion teacher in private practice in Louisville, Colorado with 27 years clinical experience.  She teaches Mindfulness-Based Stress Reduction (MBSR) and Mindful Self-Compassion (MSC) classes and other mindfulness classes and workshops throughout Colorado, and virtually nationwide, and is a mentor for Jack Kornfield's and Tara Brach's Mindfulness Meditation Teacher Certification Program, supporting students' development as meditation teachers. She has practiced yoga for over 30 years and vipassana meditation since 2003, and holds the Dharma as a sacred compass that guides her personal and professional life, and is currently in training as an Insight teacher with James Baraz.  She has completed the Mindfulness Yoga and Meditation Training (MYMT), the Dedicated Practitioner Program (DPP), the Heavenly Messengers (HM) Program, and the Advanced Practitioners' Program (APP) through Spirit Rock Meditation Center and feels deeply nourished by many years of long retreat practice.   In February 2022 she completed a one-year Buddhist Eco-Chaplaincy Program through the Sati Center with Gil Fronsdal, Susie Harrington, and Kirstin Rudestam, and is trained to offer emotional and spiritual support to individuals and communities impacted by the environmental and ecological crises of our times.  She has a particular passion in supporting women…
Learn more about Jean Leonard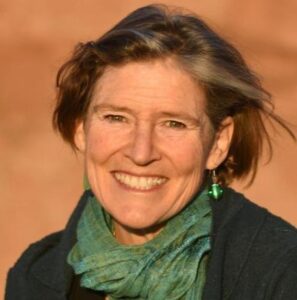 Sarah Heffron
Sarah Heffron, LSCSW is a licensed clinical therapist and began sharing insight meditation in 1999.  Her first degree was in environmental studies and her first refuge was in the natural world.  It was in the whirlwind of defending the natural world, that she attended her first Vipassana retreat and then dove deeply into the Dharma, with the blessing of many longer retreats.  Since becoming a mother 14 years ago, she has practiced the more worldly and often messy Dharma of a parent-householder.  Participation in the Community Dharma Leader program and Dedicated Practitioner Program through Spirit Rock Meditation Center greatly contributed to finding grace amidst the grit whether in parenting, work, or activism.  In the past two decades, she has taught Dharma class series, daylong and weekend retreats (Utah, Colorado, and Kathmandu), as well as teaching mindfulness and yoga in schools for five years.  She is currently in the Buddhist Eco-Chaplaincy Program where she feels called to support the great transformation from the current paradigm of social and ecological injustice to a paradigm that respects and nourishes all beings.  
Learn more about Sarah Heffron