Zen Intensive (Sesshin)
With Kritee (Kanko) and Imtiaz Rangwala
September 25 - October 1, 2023
Boundless in Motion is a 501(c)3 non-profit and a trauma-informed meditation community based in Boulder (Colorado). We are building a spiritually rooted movement towards climate action, racial equity and respect for all life on our planet. We host retreats that are at the interface of inner healing (through meditation and grief/rage sharing circles) and outer strategic actions for climate and social justice. This silent retreat is for those who want to learn about Zen tradition and deepen their surrender to the "Enlightened Mind". 
— Are you feeling ready to deepen your meditation practice in a community that is rooted in the Japanese Buddhist lineage of Rinzai Zen, takes a trauma/grief informed approach to healing and incorporates lessons from Kingian/Gandhian Nonviolence? 
— Are you curious about how we can build a rigorous spiritual practice that supports our collective movement for justice and peace in the times of climate breakdown and innumerable social injustices?
— Do you feel silence, disciplined seated and walking meditation along with communion with the natural world can help release internalized oppression and other stresses lodged in our bodies?
If yes, come join us at the stunningly pristine and healing Rocky Mountain Ecodharma retreat center (RMERC) for a Zen and Ecodharma retreat. 
Daily schedule
Our sangha takes a trauma informed approach to healing, awakening and changemaking. As a result, at our retreats, we combine practices from the ancient tradition of Rinzai Zen with our current understanding of what individuals need to face and release our trauma. Each day will include indoor zazen (seated meditation), outdoor meditation (by trees, bonfire or flowing water), kinhin (group walking meditation), deep abdominal chanting, opportunities to share our experience with other participants, a talk at the interface of Zen and Ecodharma teachings, rest periods, samu (silent work periods to prepare food) and dokusan (private interview with the teacher). We will have time in the afternoons for personal extended time in nature. Food preparation will be led by brilliant chef and dharma teacher Imtiaz Rangwala. In alignment with teachings of deep Nonviolence towards all beings, the food served will be vegan. We will always have gluten-free options. For detailed schedule for the week, please visit this page.
Is this retreat really right for you?

This will be good for you if:
— You feel ready to deepen your meditation practice in a structured dharma container. You know that spiritual practice is not about being comfortable and ready to be at your growth edge in your search for healing and enlightment.
—  You're primarily looking for a silent retreat. We do not offer guided meditation more than once a day.
— You've become disenchanted with traditional forms of activism but you trust that racial and climate justice are related and that we need inner trauma healing to build our collective power.
— You want to face and transform your grief, fear and anger but not be controlled by them.
— You are comfortable with being tested and following COVID protocols. You are also okay with silence and being away from internet and phone connection.
This might not be for you if:
— You are looking for physical rest and emotional connection with other participants. Zen retreats can lead to deep psychological/spiritual rest but our retreats include physically intense schedule with most activties in silence (Please look at our schedule).
—You can't wake up at 5 AM or can't stay still in your room when you need to rest (The lodge is wooden and every movement is amplified for meditators if anyone walks in their rooms which are directly above the meditation hall).
— You are not ready to look at how climate crisis and racial injustices are related to inner trauma healing.
— You have a heart-lung condition such that you will have difficulty at high altitude. The retreat center is at ~8500 feet.
— You need wheelchair access.
— You will be unconcomfortable by being out of contact with the world. (The staff will have the ability to make and receive emergency calls or emails on your behalf, but phone and internet are not available for personal use).
COVID Test requirement: No Vaccine needed
Please read the complete RMERC covid policy here.   The Covid policy may change at anytime in accordance with the teacher's discretion.
PRE-RETREAT. To ensure everyone's safety, we ask that you wear an N95 mask during travel, especially while in planes and other public spaces, regardless of federal rules, and that you are really careful for 10 days before your retreat. If you have any COVID symptoms please do not come to RMERC until you are well.
To ensure everyone's safety and comfort, RMERC requires that everyone arriving at the retreat center provide a negative covid test result, preferably from a PCR test, taken less than 96 hours before the retreat.  If a PCR is not accessible, we require two rapid home tests, the first taken the day before the retreat, and the second taken the day of the retreat, with 24-36 hours between the two tests. Those using home tests should take time-stamped photos of both test results. This proof of negative test results must be presented before entering the lodge for your retreat.
Cost & scholarships
No one, especially LGBTQ, black, indigenous and other people of color, will be turned away for lack of funds.
Six days (in person): $650
Five days (in person):  $450
Weekend (in person): $250
Dana for sesshin leaders will be welcome.  With support from RMERC, we can offer partial scholarships for people of color, LGBTQ, full-time grassroots activists, people between 18-30. If you are in need of a scholarship, please talk to us. If you can support sesshin participation of others, please let us know. 
Application/Registration
You can fill the online form on this page to apply. We will send you ways to pay after your application has been accepted. Please save/print the online form as PDF before hitting submit because some browsers have an issue sending the form across.
Deposit and cancellation
Our payment, cancellation and refund policy for this retreat includes:
Non refundable registration deposit of $100 for retreats 5 nights or longer.
Final payments (less the non refundable deposit) will be due 30 days prior to the retreat.
Cancellations 30-15 days prior will get a refund of half of the final payment. For cancellations inside of 15 days there will be no refunds.
Dietary needs
Figuring menus and quantities, shopping, organizing, and cooking are complex and crucial tasks for a retreat. We provide simple, wholesome, natural, predominantly organic, vegan meals. We can accommodate common food allergies such as gluten, soy or dairy, but not preferences. Make sure to include on the application form full details of any special allergy or health needs you have and we will contact you if they require discussion. In alignment with Dharma teachings of deep Nonviolence towards all beings, we do not serve eggs, meat or fish.
Samu (Sangha service or yogi jobs)
Some of the work necessary to support the group will be handled by participants during the retreat. You will be able to choose your job, and will keep it throughout the retreat. Most participants find serving others in this way quite enjoyable, and a great opportunity for practice in action.
What to Bring
Click here for a general "What to Bring to Ecodharma Center List". Our retreat manager will send another retreat specific packing list and sign up for Samu jobs a few weeks before the start of the retreat.
Teachers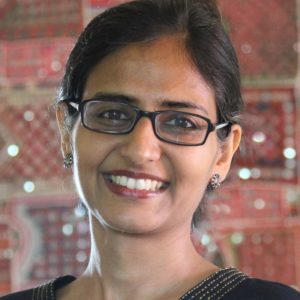 Kritee (Kanko)
Kritee (dharma name Kanko) is a Zen teacher, scientist, activist, dancer, and permaculture designer. She directs and teaches Boundless in Motion Sangha in Boulder in the Rinzai-Obaku Buddhist lineage of Cold Mountain and is a Co-Founder and Executive Director of Boulder Eco-Dharma Sangha. She is also a co-founding teacher of Earthlovego, a community of meditation practitioners, teachers/professors & environmental advocates from different backgrounds seek ways to deepen synergy between their spiritual practices and their activism through workshops at Lama Foundation in New Mexico. Kritee trained as an environmental microbiologist and biogeochemist at Rutgers and Princeton Universities, and has done over ten years of research on mercury pollution. She currently works as a senior scientist in the Global Climate Program at Environmental Defense Fund and is helping implement environment and climate-friendly methods of farming at large scales in Asia with a. three-fold goal of poverty alleviation, food security and climate mitigation and adaptation among small scale farms. She places deep importance on the need of diversity, and the alignment of climate advocacy with social justice movements.
Learn more about Kritee (Kanko)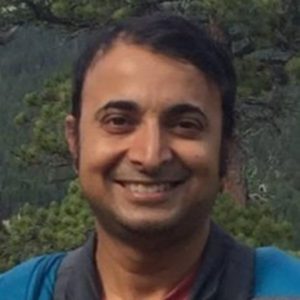 Imtiaz Rangwala
Imtiaz Rangwala has been practicing meditation for ~20 years and is a lay meditation teacher in the lineage of Cold Mountain Zen. He is also one of the founding members of Boulder Ecodharma Sangha. Professionally, he is a Climate Scientist at the University of Colorado in Boulder where he provides climate science support to people managing our land, water and wildlife. He loves to nurture community through his love for cooking, gardening and sharing of songs and stories. He also greatly loves the outdoors and considers nature to be a very important teacher. Imtiaz was raised in the Islamic tradition of progressive Dawoodi Bohras and remained influenced by Sufism. He will primarily serve as the chef and kitchen logistics manager for this retreat.
Learn more about Imtiaz Rangwala