Nature + Mindfulness + Joy
With Joshua Ellis, Satya Larrea and Frederic Wiedemann
July 3 - 9, 2023
Lower Prices and Indoor lodging added
Nature, Mindfulness and Joy
Overview: This will not be your typical meditation retreat – not fully silent, a lot more fun, camping only, held entirely outdoors, and focused on JOY … in glorious mid-summer, at 8600 feet, in the Rockies. On this uniquely fun retreat, we combine an extraordinary wilderness setting with mindfulness and embodiment experiences that will help to bring joy into your life. We will weave together periods of silent meditation, with heart-opening experiential exercises, conscious community building, an overnight solo, and play, laughter and movement in nature.
Location: Rocky Mountain Ecodharma Retreat Center, in Jamestown, COLO (45 mins from Boulder, COLO) is an ideal location for this nature meditation retreat. The property is extraordinarily beautiful, pristine and peaceful, with a wide variety of trails, wildflower-covered alpine meadows, creeks, and rocky crags. The mountains, forests and river naturally work to settle the mind, while living and practicing together creates personal connections and mutual support.
Accommodations:  WOW! The weather "should be" great! Average July day temperature is 71 (with highs into the 80s)! Cold nights, perfect for snuggling in your sleeping bag or in a room in the lodge.  On the other hand, you should be prepared for any weather in the Rockies, at 8600 feet elevation — possible snow or rain, and the drama of it all! In short, bring great gear.
Your 48 HOUR "SOLO": On Thursday July 6, you will embark on a powerful journey — a 48 hour SOLO, on this beautiful land, in silence, alone (more on this below). You will have our guidance, support and expertise every step of the way. Then on Saturday morning, we meet as a community again — for integration, celebration and dance. More details below.
Facilitators: Another reason that this will not be your typical mindfulness retreat: A 30 y.o millennial, a Gen X woman in her 50's and a 74 y.o. baby boomer have chosen to team together.  We love working together. This is our fourth annual retreat together. You get to enjoy the best that wisdom and youth can bring to your life path right now. 
We build community throughout: see details below
We "play with Joy": see details below
Lodging Options
You may camp in a beautiful campsite, or stay in the lodge. The prices below are inclusive.  Lodge rooms are for single individuals or couples or friends consenting to room together.  If you reserve a space in a single room, you may request to change your rooming to a double, with another consenting participant. Your cost will be adjusted to reflect the cost of a double room.  Contact Kathy at regis[email protected] if you will be rooming with another participants.
$650 Camping
$720 Glamping
$630|$1110 RV Camping
$720 Curtain Room
$720 Semi-Private Nook  (single)  see details on the registration page
$900 Single Room
$795|$1590 Double Room (see note above)  (2 single beds; cost per couple).
$795|$1590 Double Room (see note above)  (1 double bed; cost per couple).
Here is What You Get
• Nature's healing: beauty, solace, and inspiration in this wilderness setting
• Mindfulness, body, movement, breath & nature practices designed to unlock your joy
• A loving, supportive, co-created community and plenty of time to deeply connect with everyone in the group
• Three experienced, wise teachers—a 30 year old millennial, a Gen-X woman in her 50's and a 74 year old elder—who love to collaborate together
• Solo time on the land, for your own attunement, healing, and inner guidance
• Integration practices to sustain your gains & carry-over into your daily life
• Outdoor camping in an open meadow, beside a river, with vast views of the Continental Divide
Indoor accomodations in a rustic lodge
• 3 healthy, delicious meals per day
• Just 45 minutes from Boulder
• Smartly scheduled, from Monday afternoon through Sunday lunch, over the July 4th holidays
• Capped at 16 people — for a small, intimate, real experience — with personal attention from your teachers
• INEXPENSIVE RATES [plus your love donation] for ALL food, camping & activities
• MOST UNIQUELY: Playing with JOY, YES JOY, throughout the entire retreat
About "Playing with Joy"
We hold this paradox as sacred — that we can grieve the suffering of others, of the eco-collapse, of racial injustice, or radical inequality of rich/poor, of plasticized oceans, and our beloved animals dying as species  … yet also still feel joy within.
The joy that we will cultivate is not a "spiritual bypass" of our own shadow, or of the world's dysfunction right now.
We will dig deep to see that the following belief is a falsehood: "Joy is like an orchid, so rare and special".
We can "get over" the cultural programming that "we should be suspicious of feeling (or trying to feel) too much Joy"
Let's bust the following attitude: " We don't get to feel Joy on a daily basis."
And through group-led exercise, and private discussions, we will help you dig into your shadow, limiting beliefs, family  and cultural programming and your underlying fears of being joyful.
We consider all of the above to be sacred work that actually benefits the planet right now, as well as you personally (not to mention your family, when you "return").
About "community building"
Your three co-leaders make a deliberate, conscious and sustained endeavor to "build community" through our time together, short as it may be.
We start this process on day 1 — in fact, we start it at 4 pm Monday, July 1 (day one)
With maximum 16 participants, we are able to go to deeper community, intimacy, bonding, and self-discovery.
We encourage folks to connect with each other, in multiple ways: in our group gatherings, campfires, taking one-on-ones walks, music, intimate sharing (including by your leader), etc.
Our past participants listed this "sense of community" as one of their highest benefits.
The only person who did not bond with our mini-community last retreat was someone wanting a traditional, silent, buddhist retreat. Which we are not!
This focus on joyful community seems especially vital, for what the world needs right now (in addition to "love, sweet love).
Details about your Solo — in the wilderness, for 48 hours, alone!
Being alone in Nature is powerful medicine, and an incredible opportunity. This 48 hour  solo (Thursday morning to Saturday morning) is a time to heal, connect, explore and relax: opening deeply to the power and beauty of the environment, with the freedom that solitude provides.
If 48 hours in the wilderness alone sounds edgy (or a lot edgy!), we will be there to give you ample instruction, preparation, support, and flexibility for the solo — so each of you can benefit fully from your experience. Between the three co-leaders, we have done wilderness solos for many years, all over the world.
You will choose your "power spot" from a variety of locations, anywhere from next to the lodge, to deep in the wilderness. For the overnights, you can take your tent and sleeping bag to your "power spot," OR stay in your tent for the night at your established camping spot, just without contact with others (ie, solo!).
All necessary food is provided.
We will meet back together Saturday morning, as a newly initiated community. We share our adventures, and harvest the deeper meaning of your solo.
The elements, plants and animals become our teachers, the land our home, and silence our cherished companion.
Most past participants have found the solo a highlight – sometimes THE highlight – of their retreat.
Pricing and Dana

Your cost for the retreat is set as low as possible and only covers the expenses for the teachers to provide this retreat: renting the center, food, cooks, insurance, staff travel, admin costs, etc etc..
You may be amazed at this low price, if you have been to other retreat centers.
Additional Dana: None of your registration costs go to your three teachers. We are solely supported by your "dana" (a buddhist term). In the tradition of the Buddha, our teachings are offered without a set fee, keeping costs as low as possible, so no one is excluded due to finances.
In turn, we ask that your donation to us be as generous as possible within your means. Dana will be offered by check or cash on the last day. We are grateful for your support!
Scholarships
It is our intention that cost not be an impediment to practice.  If you cannot afford to attend without a fee reduction, you can ask for a scholarship on the registration web site, and then just pay the remaining amount.
Anyone with financial hardship is welcome to apply and will be assessed based on needs and fund availability. We ask that you request the lowest amount required to attend the retreat, so that we can offer support to as many people as possible. But do not let cost be an impediment to your attending; if you need a scholarship, please get one.
Payment, Deposits
A non-refundable deposit of $180 is due at the time of registration. Full payment is due 60 days before the retreat start date; your credit card will automatically be charged at that time.
Cancellation, and Refund Policies
If you cancel your retreat at any time, the $180 registration fee is not refunded.
Cancellations received 60-30 days prior will get a refund of half of the final payment.
Cancellations 30-7 days prior will get a refund of a quarter of the final payment.
For cancellations inside of 7 days there will be no refunds.
Time and Transportation
The retreat begins at 4:00pm on the first day, and ends after lunch on the last day. If you are flying into Denver, the airport is about 90 minutes from the center, so you should plan on your flight arriving no later than 1:00pm to reach the retreat center on time. Return flights departing from the Denver airport should leave no earlier than 4:30pm, so you can get to the airport on time. Please do not plan on leaving the retreat early or arriving late. If camping, you might want to allow some extra time to set up your tent before the retreat starts.
Please note that the center is at 8500 feet, similar to most Colorado ski towns. If you are concerned about acclimating from sea level, you might consider arriving a day or two in the Denver/Boulder area before the retreat.
Contact
You will be out of contact with no internet access or cellphone service during the retreat. Please complete all personal business before you arrive. The staff will have the ability to make and receive emergency calls or emails on your behalf, but phone and internet are not available for personal use.  Isn't that glorious?
Covid Information
Please read the complete RMERC covid policy here.   The Covid policy may change at anytime as covid protocols shift.
PRE-RETREAT. To ensure everyone's safety, we ask that you wear an N95 mask during travel, especially while in planes and other public spaces, regardless of federal rules, and that you are really careful for 10 days before your retreat. If you have any COVID symptoms please do not come to RMERC until you are well.
To ensure everyone's safety and comfort, RMERC requires that everyone arriving at the retreat center provide a negative covid test result, preferably from a PCR test, taken less than 96 hours before the retreat, or if PCR is not accessible, two rapid home tests, the first taken the day before the retreat, and the second taken the day of the retreat, with 24-36 hours between the two tests. Those using home tests should take time-stamped photos of both test results. This proof of negative test results must be presented before entering the lodge for your retreat.
Food and Meals
Three simple vegetarian meals a day will be provided from dinner the first day through lunch on the last day. If you want a snack between meals, or supplemental protein such as jerky or packaged fish, you can bring a small quantity of packaged unrefrigerated food. Tea and coffee along with milk and sweeteners are available before and during breakfast. Please do not bring anything that needs refrigeration (medicine excepted). Excessive snacks are unnecessary: if you need a boost, a little gorp or an energy bar is sufficient for most people.
Special Needs
Figuring menus and quantities, shopping, organizing, and cooking are complex and crucial tasks for a retreat. We provide simple, wholesome, natural, predominantly organic, vegetarian meals. We can accommodate common food allergies such as gluten, soy or dairy, but not food preferences. Make sure to include on the registration form full details of any special allergy or health needs you have beyond basic vegetarian, and we will contact you if they require discussion.
Helper (Yogi) Jobs
Some of the work necessary to support the group will be handled by participants during the retreat. You will be able to choose your yogi job, and will keep it throughout the retreat. Most participants find serving others in this way quite enjoyable, and a great opportunity for practice in action.
Teachers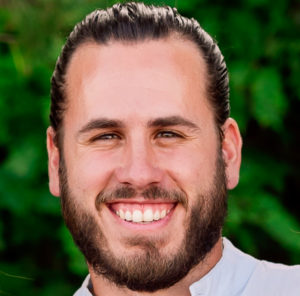 Joshua Ellis
Josh Ellis is a mindfulness teacher, wilderness guide, and the former Resident Manager of RMERC. He is certified to teach mindfulness through Jack Kornfield and Tara Brach's Mindfulness Meditation Teacher Training Program. He is the founder and lead guide of Maui Mindful Adventures, a group dedicated to practicing mindfulness in motion in nature.
Learn more about Joshua Ellis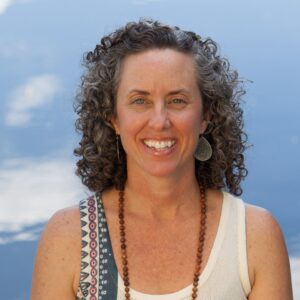 Satya Larrea
Satya discovered yoga and meditation in 1993 out of her need to be happy. She was desperate to heal from the depression and anxiety she felt in her mind/body.  She was a work study student at an ashram for many years and while "chopping wood and carrying water" she underwent a rigorous training to teach yoga, starting in 1997. Satya currently owns the Whole Yoga Center in Denver and has led numerous yoga teacher training's and daylong meditation retreats there, since 2004.   Her calling in life is in the healing arts, she's a body worker with an emphasis on somatics and she's earned multiple certifications in ayurvedic and yogic studies, massage therapy and Qigong.  Satya specializes in teaching embodiment and mindfulness to  people who are in recovery from eating disorders and mood and anxiety disorders in a hospital setting. She started sitting with Johann Robbins's meditation group in 2016 and was introduced to Vipassana Meditation, the Eco Dharma Center and nature practice, she is immensely grateful for RMERC and her deepening relationship to the land.  Satya enjoy's practicing mindfulness in nature while cross country skiing, paddle boarding, and hiking with her dog. She is learning how to lift weights safely. Satya resides in Louisville, CO and aside from being a yogini, she is also a mother and a wife.   
Learn more about Satya Larrea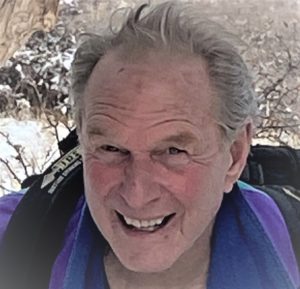 Frederic Wiedemann
Frederic is an elder sage … and renaissance kind-of-guy. He "downloaded" his life/soul mission in his 30's. The essence hasn't changed in these 40 years since: "to explore, embody, and share paradoxical Wholeness." His 50 years of journeying with this mission –and catalyzing others to find theirs — has led him to: founding and directing two educational  nonprofits; local community activist for Dharma's Garden — a 5 acre, educational farm in the heart of Boulder living abroad for total of five years; Human Resources VP for an entrepreneurial start-up rocketing to $50,000,000 sales; poet of over 200 poems; two year "walk-about" in Kashmir, India and Maui; total psycholgical crash and burn in mid-life: sleepless, homeless, penniless, suicidal; scholar and published author of Between Two Worlds: The Riddle of Wholeness; active coaching and mentoring practice for those wanting clarity and connection with their deeper soul. delving into extraordinary teachings, healings and soul medicine coming from entheogens; deliberately synthesizing his background in PhD clinical psychology, spirituality, meditation, mindfulness, energy medicine, somatic experience, neuroscience, wisdom traditions, evolutionary psychology, yoga, solo vision quests, professional dance and world travel adventures — into practical and loving teachings. More at his elder sage website: https://ultimateadventure.life/
Learn more about Frederic Wiedemann