Healing Yourself: Healing the World – A Mindful Path through Grief
With Donna Roe Daniell LCSW
October 25 - 29, 2023
Tuition based retreat
Healing Yourself:  Healing the World
This retreat is for women looking for an opportunity to deepen their relationships with themselves and to learn tools to stabilize and heal through major changes or shifts happening in their lives.  Transitions and change can ripen our hearts to new yearnings and experiences, awaken the opportunity to heal old pain, and open our doorway for calls to service.  As women in the current world, we have feminine gifts that need to be unleashed, and this retreat can help you find your deepest wisdom and assist you in taking it forward into your life.  You will learn about my healing path from major midlife challenges, "The Midlife Voyage to Transformation," specifically focused on Stages 3 & 5: The Grief/Rebirth Cycle.  You will learn how to create your own embodied healing container from which you can hold your grief and traumas and how to embrace it deeply  and fully through ritual, deep listening, and deep connections with others.  The final day is an opportunity to take a step into this New You, birthed from processing your grief deeply to explore an ecodharma path of action in the world.
Note that Donna will hold a Meet & Greet via Zoom on August 7th at 6 pm; learn more at https://women-in-transformation.com/product/webinar-august-7th-5pm-fall-retreat-meet-greet-explore-a-womans-path-through-grief/
You can also learn more about her work from the recording of this recent webinar:
Teacher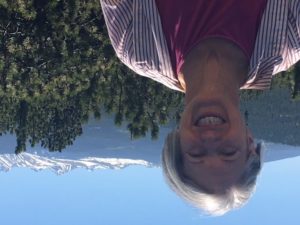 Donna Roe Daniell LCSW
Donna Roe Daniell LCSW brings over 35 years of experience as a family therapist, trauma therapist, Zen and Vipassana meditation practitioner and Ecodharma teacher, MBSR teacher, Certified IFS therapist, Mindful Self Compassion teacher, retreat leader and climate activist. Her unique retreat offers women in major transitions in their lives a mindful path through grief to true authenticity and fierce compassion. She has received training in The Work that Reconnects and has completed trainings with Deborah Eden Tull, bringing her facilitation tools more specifically focused on bringing women through their personal and global darkness safely to an emerging role in the transition. She has written a personal memoir of her own midlife struggles, "A Midlife Voyage to Transformation" published in 2021, which shows how these tools have guided her own personal transformation, and how this work has become her emerging contribution to global healing.
Learn more about Donna Roe Daniell LCSW