Deepening Your Practice: An Insight Meditation Retreat for Experienced Practitioners
With David Chernikoff
September 11 - 17, 2023
Deepening Your Practice: An Insight Meditation Retreat for Experienced Practitioners
This retreat is for those who want to deepen their practice and to listen to what the Thai meditation master Ajahn Chah called "the one who knows." Ultimately, spiritual maturation involves learning to trust our own inner guidance and resting in the felt realization that we already have what we seek and we already are what we wish to become. In a caring, supportive environment, we'll practice sitting and walking meditation in silence. There will be dharma talks on the retreat theme as well as guided meditations and some interactive exercises that highlight the transformative power of the teachings.
This retreat is designed for people who have had a regular meditation practice for at least four years and have attended a minimum of three previous residential retreats. If you are unsure whether this retreat is appropriate for you, please contact David Chernikoff at [email protected] or 303-499-7592 to discuss your situation.
Silence
Every effort is made to support a deep and fruitful retreat, and noble silence is a valuable part of the process. Aside from periodic discussions, dharma talks, and experiential exercises, the retreat will be conducted in silence.
Time and Transportation
The retreat begins at 4:00 pm on the first day, and ends at 1:00 pm on the last day. If you are flying into Denver, the airport is about 90 minutes from the center, so you should plan on your flight arriving no later than 1:00pm to reach the retreat center on time. Return flights departing from the Denver airport should leave no earlier than 4:30pm, so you can get to the airport on time. Please do not plan on leaving the retreat early or arriving late. If camping you might want to allow some extra time to set up your tent before the retreat starts.
Please note that the center is at 8500 feet, similar to most Colorado ski towns. If you are concerned about acclimating from sea level, you might consider arriving in the Denver/Boulder area a day or two before the retreat begins.
Contact
You will be out of contact with no internet access or cellphone service during the retreat. Please complete all personal business before you arrive. The staff will have the ability to make and receive emergency calls or emails on your behalf, but phone and internet are not available for personal use.
Lodging
SHARED OCCUPANCY LODGING: Double and triple rooms are shared space; you will be sharing a room with someone you don't know.  If you have a preferred roommate, you can send a request to [email protected] and we will try our best to move the two of you into a shared space.
Lodging Options
$600    Camping
$670     Curtain Room
$670     Glamping
$670/$1,180   RV Camping
$670      Semi-Private Nook (single) see more details on registration page
$780      Single Room
$1,430   Double Room (1 double bed; cost per couple).
$715       Shared Double (2 single beds ).
Scholarships
It is our intention that cost not be an impediment to practice.  If you cannot afford to attend without one, please check scholarship box on registration for instructions.
Payment, Deposits
A non-refundable deposit of $180 is due at the time of registration. Full payment is due 60 days before the retreat start date; your credit card will automatically be charged at that time.
Cancellation, and Refund Policies
If you cancel your retreat at any time, the $180 registration fee is not refunded.
Cancellations received 60-30 days prior will get a refund of half of the final payment.
Cancellations 30-7 days prior will get a refund of a quarter of the final payment.
For cancellations inside of 7 days there will be no refunds.
Teacher Donations (Dana)
None of what you pay to the Rocky Mountain Ecodharma  (RMERC) retreat center goes to the teacher. Your payment to RMERC covers your lodging and food only.  The teacher is solely supported by dana offerings (generosity) from the participants. In the tradition of the Buddha, teachings are offered without a set fee, keeping costs as low as possible.  To the extent that our scholarship funds allow, we do what we can to enable people with limited funds to participate.   In turn, we ask that your donation be as generous as possible within your means. There are several ways to offer dana: credit card, using the PayPal link on David's website, cash, or check.   Further instructions for offering dana and the link to David's website will be provided at the conclusion of the retreat.
Covid Information
Please read the complete RMERC covid policy here.   The Covid policy may change at anytime in accordance with the teacher's discretion.
PRE-RETREAT. To ensure everyone's safety, we ask that you wear an N95 mask during travel, especially while in planes and other public spaces, regardless of federal rules, and that you are really careful for 10 days before your retreat. If you have any COVID symptoms please do not come to RMERC until you are well.
To ensure everyone's safety and comfort, RMERC requires that everyone arriving at the retreat center provide a negative covid test result, preferably from a PCR test, taken less than 96 hours before the retreat.  If a PCR test is not accessible, we require two rapid home tests, the first taken the day before the retreat, and the second taken the day of the retreat, with 24-36 hours between the two tests. Those using home tests should take time-stamped photos of both test results. This proof of negative test results must be presented before entering the lodge for your retreat.
Food and Meals
Three simple vegetarian meals a day will be provided from dinner the first day through lunch on the last day. If you want a snack between meals, or some kind of supplemental protein, you can bring a small quantity of packaged unrefrigerated food. Tea and coffee along with milk and sweeteners are available before and during breakfast. Please do not bring anything that needs refrigeration (medicine excepted). Excessive snacks are unnecessary: if you need a boost, a little gorp or an energy bar is sufficient for most people.
Special Needs
Figuring menus and quantities, shopping, organizing, and cooking are complex and crucial tasks for a retreat. We provide simple, wholesome, natural, predominantly organic, vegetarian meals. We can accommodate common food allergies such as gluten, soy or dairy, but not preferences. Make sure to include on the registration form full details of any special allergy or health needs you have beyond basic vegetarian.
Helper (Yogi) Jobs
Some of the work necessary to support the group will be handled by participants during the retreat. You will be asked to perform a yogi job throughout the retreat to support our practice community.  Most participants find serving others in this way quite enjoyable, and a great opportunity for practice in action.
Teacher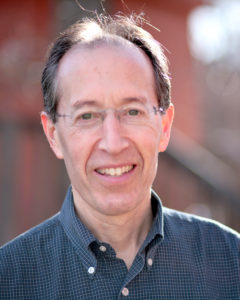 David Chernikoff
David Chernikoff is a meditation teacher, spiritual counselor, and life coach who taught psychology and meditation at Naropa University for many years. A student of meditation since 1971, David completed the inaugural Community Dharma Leader Training at Spirit Rock Meditation Center and began teaching Insight Meditation in 1988. His teaching has been influenced by senior teachers from the Insight Meditation Society and Spirit Rock, Zen teacher Yvonne Rand, and spiritual guides from other contemplative traditions, most notably Ram Dass, Father Thomas Keating, and Rabbi Zalman Schachter-Shalomi. In the early 1980s, he worked at Ram Dass's Hanuman Foundation Dying Center in Santa Fe, New Mexico and then became the director of Mesilla Valley Hospice in Las Cruces, N.M. He later spent three years in Nepal doing public health development work for the Seva Foundation and studying with Tibetan Buddhist teachers. After returning to the U.S., he became the education and training director for the Spiritual Eldering Institute, now called Sage-ing International. In that role, he taught conscious aging programs throughout the U.S., in Canada, and in Ireland. David is currently one of the guiding teachers of the Insight Meditation Community of Colorado and teaches retreats and workshops throughout the U.S. He is the author of Life, Part…
Learn more about David Chernikoff