People of Color Ecodharma Retreat
With Kritee (Kanko), Asia Dorsey and Maria Talero
July 20 - 25, 2021
Do you self-identify as a person of color and work within the climate & ecological justice movement?
Do you feel burnt out and/or overwhelmed and need to recharge in an emotionally safe space where we gently witness and honor each other's experience?
Can we build a movement that is rooted in our deepest spiritual values and emotional truths? Can we engage in advocacy such that it is an integral part of our spiritual and emotional growth?
Do you feel yoga, meditation, and trusting, empathetic emotional connection with others can help release internalized white supremacy and other stresses lodged in our bodies?
If yes, come join us at the stunningly pristine and healing Rocky Mountain Ecodharma retreat center (RMERC) for a retreat designed for empowering self-identifying people of color involved in environmental or climate change-making work. You could be a community organizer, healer or healing arts practitioner, educator, activist, climate-mom, climate scientist, journalist, lawyer, author or storyteller. Through silent hikes, meditation, yoga, guided peer-to-peer dialogue in a strong container of emotional safety and trust, gratitude/grief/rage rituals and other group-work, we will explore how we can deepen activism as a spiritual path, learn to honor and transform our emotions through empathy and connection, face the root cause of our suffering, act with deep compassion & courage in these difficult times.
Schedule
Please check our draft schedule here. Each day will include silent seated and walking meditation, yoga and relational practices in small groups or dyads.  These sessions will discuss how our bodies store and remember stresses, how can we express and release these stresses through movement, meditation, rituals, group-work. We will also use some of The Work That Reconnects spiral practices that tap into our gratitude, our spiritual ground of being, express grief/anger/despair/fear and inspire actions.
This might be for you if:
You've become disenchanted with traditional forms of activism.
You've begun to encounter the direct relationship between your individual wellness and efficacy of your work.
You're ready to explore what is possible through deep relating and vulnerability.
This might not be for you if:
You are not up for the discomfort and vulnerability of sharing some of your truth with others. Our goal is emotional safety and trust, but also emotional connection, and that takes a little bit of courage and willingness to be open and honest about your feelings.
You tend to get extremely overwhelmed, spaced out, or destabilized in groups, or are currently struggling with intense traumatic stress. Most of us experience these to some degree, and it's important to know that that's ok, and a very understandable response to the world we're living in. But if it's so intense that you would feel completely "out of control" or lose the ability to keep coming back to the present moment, then this may not be a space that meets your needs.
You're looking for a completely silent retreat or a primarily "solo" experience. We will be weaving silence, yoga, meditation, and quiet walking together with facilitated small-group or dyadic conversation and dialogue.
You have a heart-lung condition such that you will have difficulty at high altitude. The retreat center is at ~8500 feet.
You need wheelchair access.
Cost
Sliding scale: $500-800
No one will be turned away for lack of funds if the application is selected. Partial & full scholarships will be available. We invite people with capacity to donate to generously support this gathering. Teachers will also be supported by voluntary donations (dana).
Application
Please fill this form to apply. We can have a maximum of 26 attendees. All applicants must self-identify as person of color (POC). Within POC, we are aiming for a diversity of age, geographical, racial and organizational backgrounds.  To that end, we have reserved five spots for young people under 25 and will give priority to grassroots group members.
Teachers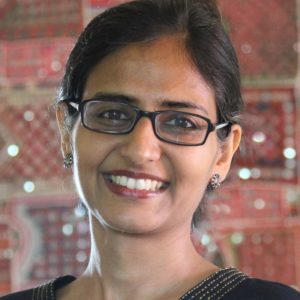 Kritee (Kanko)
Kritee (dharma name Kanko) is a Zen teacher, scientist, activist, dancer, and permaculture designer. She directs and teaches Boundless in Motion Sangha in Boulder in the Rinzai-Obaku Buddhist lineage of Cold Mountain and is a Co-Founder and Executive Director of Boulder Eco-Dharma Sangha. She is also a co-founding teacher of Earthlovego, a community of meditation practitioners, teachers/professors & environmental advocates from different backgrounds seek ways to deepen synergy between their spiritual practices and their activism through workshops at Lama Foundation in New Mexico. Kritee trained as an environmental microbiologist and biogeochemist at Rutgers and Princeton Universities, and has done over ten years of research on mercury pollution. She currently works as a senior scientist in the Global Climate Program at Environmental Defense Fund and is helping implement environment and climate-friendly methods of farming at large scales in Asia with a. three-fold goal of poverty alleviation, food security and climate mitigation and adaptation among small scale farms. She places deep importance on the need of diversity, and the alignment of climate advocacy with social justice movements.
Learn more about Kritee (Kanko)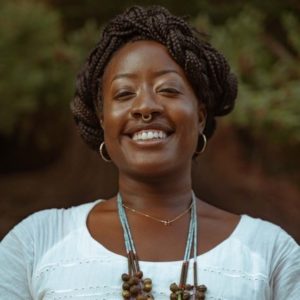 Asia Dorsey
Asia Dorsey embraces the earth. Ear to the soil, she heeds the instruction of mineral, microbial, and botanical beings. She uses her gift of pattern recognition to embed organizational culture with the ethics of earth care, people care and fair share.  She studied Non-Profit Management at the Wagner School for Public Service at New York University and uses her training in Kingian Non-Violence facilitation to create frameworks for beloved communities. Asia seeds indigenous centered Permaculture Design and Social Permaculture Design education with the Denver Permaculture Guild. She has centered ecological design in building her own, regenerative worker's cooperative, the Five Points Fermentation Company and as a current Coop Educator and Board Member of the Community Wealth Building Network. Asia ensures that the frameworks for world building center joy, creativity and pleasure. She has, to this end, become a pillar of play using art, authentic relating and performance to cultivate strategic imagination through her innovative Dreamplay modality. She engages communities and organizations in dreaming themselves back home. From this dreaming, she perpetuates the notion that home is in our bodies and facilitates from frameworks of Healing Justice to shape everyday organizations to embody liberation. Asia has personally, grounded and centered Black bodies in these…
Learn more about Asia Dorsey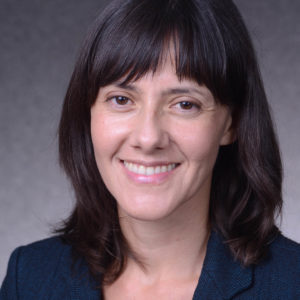 Maria Talero
Dr. Maria Talero is a long-time educator and facilitator who believes that lasting social change arises from a deeper level than our fiery and righteous ideas of right and wrong – and that this level can be accessed by fostering empathetic and trusting relationships in organizations, workplaces and communities. She is a native of Colombia and was raised bi-culturally in the U.S., and is now raising two small kids and looking at the future through their young eyes. She partners with non-profits, faith communities, and educational and grassroots organizations in Colorado and is involved with  Social Permaculture Design Course and Rocky Mountain Mutual Aid Network, two organizations focused on social change through the vehicle of closely-knit relational pods. She is a 2014 NAAEE Community Climate Change Fellow through the Environmental Protection Agency-sponsored EECapacity program and the 2017 recipient of the Outstanding Educator Award from the Colorado Alliance for Environmental Education.
Learn more about Maria Talero