Awake in the Wild – Meditation in Nature Retreat
With Mark Coleman
July 12 - 19, 2021
REGISTRATION AND WAIT LIST ARE CLOSED

This silent retreat is grounded in the practice of Mindfulness – the capacity to be present to ourselves and our environment. Participants will learn to bring this receptive presence to develop a contemplative relationship with nature. By cultivating an inner quiet and curious spirit we can learn from nature as a perennial teacher. The natural world reveals timeless Dharma teachings that support a natural letting go and a wise relationship to all experience.
Participants will also discover how meditative time outdoors leads to beautiful states of joy, peace, wonder, love and connection with oneself, each other and the larger web of life.
There will be guided nature-based meditations, mindful walks, Dharma talks on meditation and nature and group meetings with the teacher. There will be time to relish in the silence outdoors and to explore the wilderness of Rocky Mountain EcoDharma Retreat Center both in solitude and as part of the group.
To support a depth of meditative awareness, complete silence is maintained throughout the retreat except during meetings with your teachers and group discussion.
This workshop is appropriate for beginners and experienced meditators who are curious about meditation, mindfulness and how to deepen your insight practice and open your connection to the mystery of the natural world.  Be prepared for unexpected delight, mystery, silence and illumination.
Covid Procedures and Policies: (Read Carefully)
Updated: March 18, 2021
To insure everyone's safety, and to help create a feeling of security and peace of mind, RMERC will be implementing the following policies for the 2021 season. They are subject to change if conditions warrant. We hope you can appreciate the need and value of this, and your participation is conditional on agreeing to them.
Everyone coming to RMERC for a retreat will be required to submit proof of a negative molecular (not antigen) Covid test taken no earlier than 72 hours before your retreat starts or provide proof of Covid vaccinaiton.
Use of the lodge, including bathrooms and bedrooms, will be open only to those who submit proof of completed Covid vaccination (both shots if there are two). There will be outdoor porta-potty, solar shower and washing station for campers.
To insure everyone's safety and ease, we will be asking anyone with any COVID symptoms, or is feeling unwell, or has or may have been exposed to COVID, not to come to RMERC. We will also require anyone who develops any COVID like symptoms or becomes sick at the retreat to leave and return home immediately, to protect the health of the other yogis and teachers. We are not able to accommodate or care for someone who gets sick or needs to be quarantined while on retreat.
During the retreat various protocols for the use of masks, hand washing, social distancing, etc. will be in place.
We appreciate your understanding and cooperation; our priority is creating the safest possible sangha for everyone.
Additional Retreat Information
Time and Transportation
The retreat begins at 4:00pm on the first day, and end about 1:00pm after lunch on the last day. Everyone should plan on coming in your own car, or with someone you live with. If you are flying into Denver, the airport is about 90 minutes from the center, so you should plan on your flight arriving no later than 1:30pm to reach the retreat center on time. Return flights departing from the Denver airport should leave no earlier than 4pm, so you can get to the airport on time. Please do not plan on leaving the retreat early. As everyone will be camping, you might want to allow some extra time to set up your tent before the retreat starts.
Please note that the center is at 8500 feet, similar to most Colorado ski towns. If you are concerned about acclimating from sea level, you might consider arriving a day or two in the Denver/Boulder area before the retreat.
Contact
You will be out of contact with no internet access or cellphone service during the retreat. Please complete all personal business before you arrive. The staff will have the ability to make and receive emergency calls or emails on your behalf, but phone and internet are not available for personal use.
Silence
Every effort is made to support a deep and fruitful retreat, and noble silence is a valuable part of the process. With exceptions for dharma talks and other modes of support, and the special discussions and exercises the first week, we will be in silence.
Lodging Options
This retreat is mostly a camping retreat. However, a limited number of rooms will be available in the lodge for those who have proof of a Covid vaccination. All lodge rooms are for single individuals or couples already living together.
NOTE: Proof of completed Covid Vaccination is required for all indoor lodging. We must receive documentation within 10 days of the retreat start date. If documentation is not received, we will change your lodging to camping.
Lodging Options:  All lodging is single occupancy (see note below)

Camping
Single Room
Semi-Private Nook (single)  see details on the registration page
Note:  If you are a couple and would like to room together contact Kathy – kathy@rmerc.org
Cost and Dana
The cost of the retreat is set as low as possible and only covers expenses: renting the center, food, cooks, insurance, and staff travel.   None of this cost share goes to the teachers or to the manager, who are solely supported by the dana (generosity) of the participants. In the tradition of the Buddha, teachings are offered without a set fee, keeping costs as low as possible, so no one is excluded due to finances. In turn, we ask that your donation be as generous as possible within your means. Please bring a check or cash. We are grateful for your support.
Scholarships
Requests for financial aid will be considered on a case-by-case basis. Please describe your financial situation in 3-4 sentences and also let us know what price for the retreat seems fair and also works within your budget.
Payment, Deposits
A deposit of 50% of the retreat cost is due at the time of registration. Full payment is due 60 days before the retreat start date; your credit card will automatically be charged at that time.
Cancellation, and Refund Policies
Our policy states that $75 of your deposit is nonrefundable, no exceptions. If you find that you cannot attend the retreat, please let us know as soon as possible. There will be no refunds for cancellations made within 2 weeks of the retreat. By registering for this workshop, you are agreeing to these terms.
Food and Meals
Three simple vegetarian meals a day will be provided from dinner the first day through breakfast of the last, including solo food which does not require cooking. If you want a snack between meals, or supplemental protein such as jerky or packaged fish, you can bring a small quantity of packaged unrefrigerated food. Tea and coffee along with milk and sweeteners are available before and during breakfast. Please do not bring anything that needs refrigeration (medicine excepted). Excessive snacks are unnecessary: if you need a boost, a little gorp or an energy bar is sufficient for most people.
To allow us to be out on the land we will be packing our lunches after breakfast. Please bring a plastic container or two with tight fitting lids to carry your lunch in.
Special Needs
Figuring menus and quantities, shopping, organizing, and cooking are complex and crucial tasks for a retreat. We provide simple, wholesome, natural, predominantly organic, vegetarian meals. We can accommodate common food allergies such as gluten, soy or dairy, but not preferences. Make sure to include on the registration form full details of any special allergy or health needs you have beyond basic vegetarian, and we will contact you if they require discussion.
Helper (Yogi) Jobs
Some of the work necessary to support the group will be handled by participants during the retreat. You will be able to choose your yogi job, and will keep it throughout the retreat. Most participants find serving others in this way quite enjoyable, and a great opportunity for practice in action.
What to Bring
Click Here for a What to Bring List
Teacher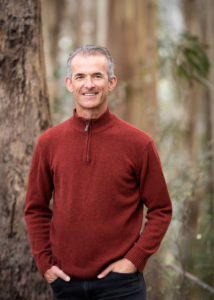 Mark Coleman
Mark Coleman is an inner and outer explorer, who has devotedly studied mindfulness meditation practices for three decades and has taught mindfulness workshops and meditation retreats on six continents for the past twenty years.  Mark is a senior meditation teacher at Spirit Rock Meditation Center and cofounder of the Mindfulness Training Institute. Mark is an unabashed nature lover and, through his organization Awake in the Wild, he leads wilderness meditation retreats integrating meditation and nature. Based on his book, Awake in the Wild, Mark leads year-long meditation-in-nature teacher training programs in the US. Mark also holds a MA in Clinical Psychology and draws on his extensive experience in working with people as a therapist and coach. Mark is the author of From Suffering to Peace: The True Promise of Mindfulness, Make Peace with Your Mind: How Mindfulness and Compassion Can Help Free You from the Inner Critic and Awake in the Wild: Mindfulness in Nature as a Path of Self-Discovery. www.markcoleman.org
Learn more about Mark Coleman