Awake in the Wild – Meditation in Nature Retreat
With Mark Coleman
July 12 - 19, 2021
This silent retreat is grounded in the practice of Mindfulness – the capacity to be present to ourselves and our environment. Participants will learn to bring this receptive presence to develop a contemplative relationship with nature. By cultivating an inner quiet and curious spirit we can learn from nature as a perennial teacher. The natural world reveals timeless Dharma teachings that support a natural letting go and a wise relationship to all experience.
Participants will also discover how meditative time outdoors leads to beautiful states of joy, peace, wonder, love and connection with oneself, each other and the larger web of life.
There will be guided nature-based meditations, mindful walks, Dharma talks on meditation and nature and group meetings with the teacher. There will be time to relish in the silence outdoors and to explore the wilderness of Rocky Mountain EcoDharma Retreat Center both in solitude and as part of the group.
To support a depth of meditative awareness, complete silence is maintained throughout the retreat except during meetings with your teachers and group discussion.
This workshop is appropriate for beginners and experienced meditators who are curious about meditation, mindfulness and how to deepen your insight practice and open your connection to the mystery of the natural world.  Be prepared for unexpected delight, mystery, silence and illumination.
Teacher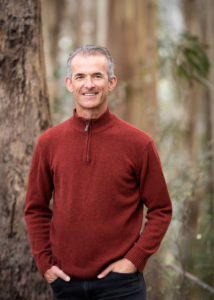 Mark Coleman
Mark Coleman is an inner and outer explorer, who has devotedly studied mindfulness meditation practices for three decades and has taught mindfulness workshops and meditation retreats on six continents for the past twenty years.  Mark is a senior meditation teacher at Spirit Rock Meditation Center and cofounder of the Mindfulness Training Institute. Mark is an unabashed nature lover and, through his organization Awake in the Wild, he leads wilderness meditation retreats integrating meditation and nature. Based on his book, Awake in the Wild, Mark leads year-long meditation-in-nature teacher training programs in the US. Mark also holds a MA in Clinical Psychology and draws on his extensive experience in working with people as a therapist and coach. Mark is the author of From Suffering to Peace: The True Promise of Mindfulness, Make Peace with Your Mind: How Mindfulness and Compassion Can Help Free You from the Inner Critic and Awake in the Wild: Mindfulness in Nature as a Path of Self-Discovery. www.markcoleman.org
Learn more about Mark Coleman