FINDING OUR SOULFUL WAY in this bewildering, disoriented and ever-changing world.
With Carol Kortsch
October 14 - 17, 2021
TWO LINKED and NATURE-BASED 'CIRCLE OF TRUST' RETREATS:
Reclaiming and nourishing our Soul Fire through timeless Mystery — for all individuals and as diverse communities in the Front Range of Colorado
ELDERSOUL FIRE –

Retreat Full- register to Wait List



A retreat for the older generation, for both men and women. A call to mature adults who are walking a lifelong soulful process. For those who long to know and take their place in community in the company of seekers who together desire a true and deepening elderhood.
DATES:  Thurs, Oct 14th, 2 pm to Fri 15th, 5 pm- Includes lodging, three meals, and program
PRICE: $150 – $200 (sliding scale)
… with the option to STAY ON to RELISH the ADVENTURE OF
SOULFIRE- 

Retreat Full- register to Wait List



An intergenerational retreat for women. Together we will co-create a trustworthy circle in which we can
listen beyond human conversation to the dream of Earth, learn from our Ancestors who still speak, and from our own personal and deep communal Feminine Wisdom.
DATES:  Fri, Oct 15th, 6 pm to Sunday 17th, 1 pm- Includes lodging, three meals and program
PRICE: $220 – $325  (sliding scale)
*RMERC requires that all retreat participants submit proof of completed Covid vaccinations.
Appropriate Covid safety measures will be followed. Only 14 indoor private rooms are available, so reserve your place! Consider inviting a special friend or family member (older or younger) to share this experience with you.
QUESTIONS? contact Carol: ckortsch@gmail.com, eldersoul.org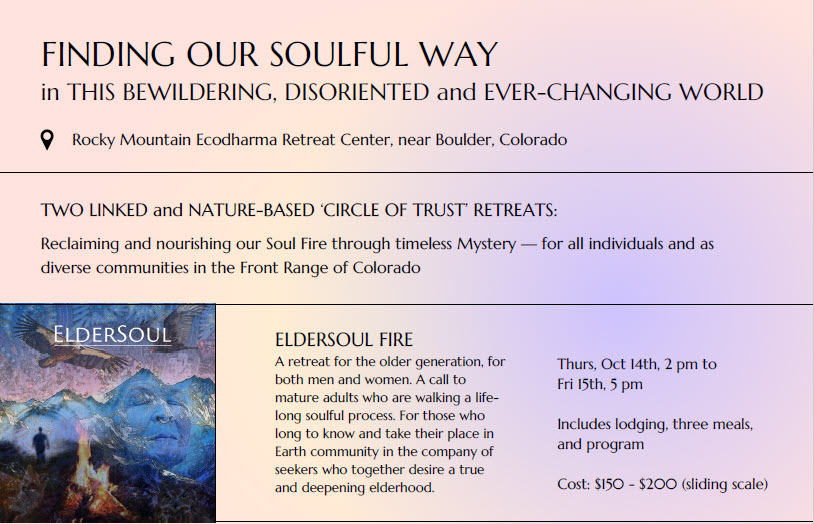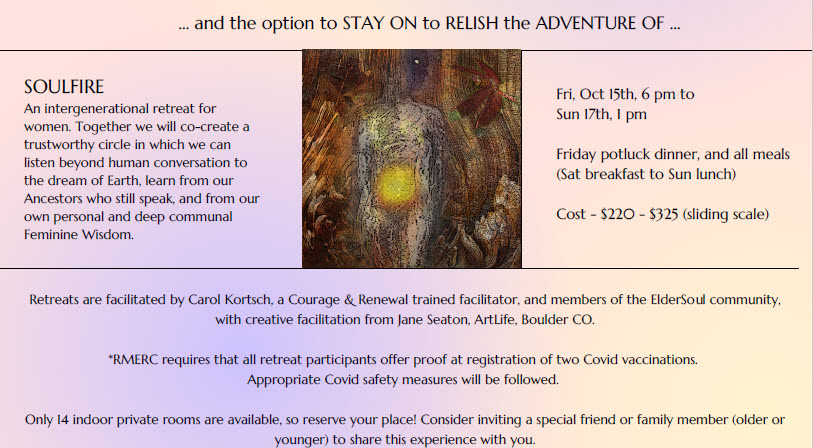 Teacher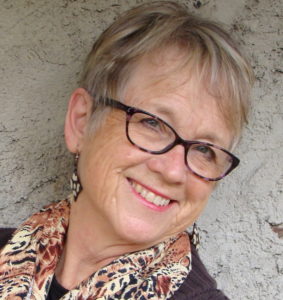 Carol Kortsch
Carol was born in Africa, educated in Canada, and then worked internationally building community in different forms. After 25 years in psychotherapy and group practice at Stonehaven Commons in Radnor, PA., she now offers nature-based retreats in Colorado as a Courage & Renewal group facilitator, trained by Parker J. Palmer. She is now blending the Earth-based practices of Animas Valley Institute (Bill Plotkin) and other local organizations in a visionary program called ElderSoul.  As a life adventurer and Earth listener, she recognizes our essential and critical human need to stop, slow down, and listen to our lives and all our relations speak
Learn more about Carol Kortsch